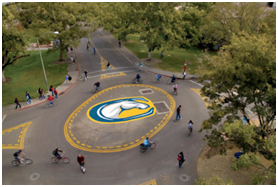 Natural Resource Economics & Policy Lab ⇐ Check out the NatuRE Policy Lab for examples of recent work from students I work with and others with related interests at UCD.  We strive to maintain a diverse and inclusive lab group.
Prospective students
Ph.D. students: I advise PhD students who are admitted as a member of either of these two "graduate groups":
Agricultural and Resource Economics (ARE) — applicants do not need a to have a faculty adviser willing to accept them (though you can still chat with faculty about interests); intermediate micro theory, intermediate stats, and calculus are important to take before applying.
Graduate Group in Ecology (GGE)–Environmental Policy Area of Emphasis — requires applicants have a faculty adviser ("major professor") willing to accept them.
For Ph.D. students it is important to have a quantitative background (economics, mathematics and/or statistics). When inquiring about graduate school at UC Davis, please address in your email:
The program you are interested in (ARE, GGE)
A short description of your academic and professional background (including economics and ecology classes), your academic interests, and a couple of sentences on why you are interested in attending graduate school
Masters students: I advise masters students typically in the Masters of Environmental Policy and Management (EPM) program, though sometimes also through one of the programs above.
Advisees/student collaborators
In progress:

Jack Buckner (Ph.D. candidate, GGE, co-chair): Jack is a trainee in UCD's Sustainable Oceans NSF research-training program. He is broadly interested in using mathematical, statistical and computational tools to address the challenge of sustainably managing marine resources in a changing world. His research focuses on the role of ecological feedbacks and tipping points in managed systems and how policy can be designed to improve the resilience of marine ecosystems. Jack collaborates with me on COVID-19 vaccine allocation.  Additional affiliations: Baskett Lab.

Kyumin Kim (Ph.D. student, ARE, chair): Kyumin focuses on marine resource management and environmental issues relating to marine ecosystems. In particular, he studies the impacts of environmental shocks (e.g. climate change and environmental disease) on marine and fisheries ecosystems. His approach involves integrating ecological and economic disciplines to identify optimal management strategies for environmental and natural resource management.

Catherine Courtier (Ph.D. student, GGE, chair): Catherine's focuses on using resource economics and econometrics to study how land management practices like restoration and conservation affect biodiversity and ecosystem health, how to quantify the ecosystem services of these managed habitats, and how these services change over time in the face of global environmental change.

Edward Whitney (Ph.D. candidate, ARE, member) studies health and natural resources in developing countries, specifically the relationships between labor productivity and Schistosomiasis, an environmentally transmitted parasitic disease, among fishing communities on an island in Lake Victoria, Uganda.  His fields include Natural Resource Economics and Development Economics.

Joseph Raymond (Ph.D. student, ARE, collaborator): Joe's fields of interest are Natural Resource Economics and Econometrics.

Daria Ageikina (Ph.D. candidate, ARE, member): Dasha's fields of interest are Climate Change, Energy, and Environmental and Natural Resource Economics.

Qian Wang (Ph.D. candidate, ARE, member): Qian's fields of interest are Agricultural Economics, Industrial Organization

Completed:

Emily McGlynn (Ph.D., ARE, chair) Director of Climate and Sustainability Research at BlackRock; Affiliated Faculty at George Mason University. Studies the impact of bioenergy demand on forest carbon sequestration. Her fields include  Natural Resource Economics and Environmental Economics.

Joakim Weill (Ph.D. ARE, chair) Climate Economist at Federal Reserve Board – Research & Statistics division; 🏆Winner of the Agricultural & Applied Economics Association's 2023 Outstanding Doctoral Dissertation Award.  Joakim collaborated with me on the loss of amphibian ecosystem services and incidence of malaria in Central America and COVID-19 social distancing.  He is an applied microeconomist working on environmental inequalities and the social safety net. His research analyzes the distributional impacts of environmental changes and public policies by leveraging large datasets from multiple sources combined with recent development in the causal inference and literature.  His ongoing projects investigate the role of flood risk information in the demand for disaster insurance, as well as the impacts of housing vouchers on residential outcomes and environmental inequalities. Prior to PhD studies, Jo worked as a consultant at the World Bank's Natural Resources Department and obtained a masters in environmental sciences.

Xiurou Wu (Ph.D. ARE, member) postdoctoral fellow at the Norwegian School of Economics. Xiurou is studying the joint management of ecosystem services (commercial fishery and crane conservation) in the context of Lake Poyang in China. Her fields include Environmental Economics and Natural Resource Economics

François Castonguay (Ph.D., ARE, 2021, member) Public Health Analytics and Modeling Fellow at the Centers for Disease Control & Prevention. Economic epidemiology; Natural resource and environmental economics.

Pierce Donovan (Ph.D., ARE, 2020, chair) Assistant Professor, Department of Economics, Connecticut College. Pierce collaborates with me on shadow value viability.  His focus includes environmental and natural resource economics, structural econometrics, and development economics. He works on developing new techniques to solve dynamic optimization problems with joint probabilistic constraints.

Amanda Lindsay (ARE, 2019, collaborator) Assistant Professor, Luther College.  Amanda collaborated with me on a 2016 JEBO paper on  Harnessing enforcement leverage at the border to minimize biological risk from international live species trade.   In her job market paper she employed an interdisciplinary approach to evaluate the local economic and biological implications of marine policies in rural Indonesia. Her analysis illustrates to what extent these policies can achieve sustainable development objectives.

Amanda Faig (ARE, 2017, member):
Research Scientistcientist
Amazon

Joanne Brasch (Individual PhD program, member): Lecturer (UC Davis) and Project Manager (California Product Stewardship Council))

Matthew MacLachlan (ARE, 2015, chair): USDA – Economic Research Service

Cloe Garnache (ARE, 2013, member), Assistant Professor, Michigan State University.

Boon-Ling Yeo (GGE, 2013, chair), Postdoctoral Scholar, Energy Institute, UC Davis.